Molly Noble Bull's Interview
Caroline:
How long have you known that you were a writer?


Molly:
I have known since childhood that I could imagine interesting things and tell stories. Once when I was very young, I told a scary story to a friend. Not only did she get scared, so did I. I begin to think my made-up story was actually true. As a result, I told "listener friendly" stories after that instead of the scary kind.
Caroline:
Did you receive a clear "call?" Or have you just loved writing all your life?


Molly
: I've always enjoyed telling stories. My problem came in writing them down. You see, I am a dyslexic. Therefore, I was a poor speller, and I had a problem with punctuation. My call to write novels was clear, but I had to wait until my ability to put my thoughts on paper caught up with my imagination.
Caroline:
What is the genre you write in?
Would you explain what it is?
Molly
: I have loved fairy tales for as long as I can remember. Still do. I write romantic fiction. And what better romance novels than fairy tales? Like fairy tales, all my books contain a love story, and they often contain a mystery of some kind as well.
Caroline:
How do you spend your writing days?
Do you set goals to reach a certain number of words per day?
Can you give us a general idea of how long it takes you to write a novel?
Molly:
No, I do not write a certain number of pages a day because I never know what might happen on a given day, and I would beat-up on myself if I didn't reach my daily goal. Instead, I write as much as I can as often as I can. It takes me about a year to write a novel. Wish I wrote faster, but I don't. Sometimes, instead of writing, I plan what I am going to write. Planning what you will write is almost as important as actually writing. I say
almost
because some people plan forever and never write a word, and that is never good.
Caroline:
What is the spiritual message in your latest book?
What can readers expect to get from reading it?
Molly:
Tsaba House published
Sanctuary
in trade paperback on September 15, 2007, and it is set in
France
in 1740.
Sanctuary
is a romantic adventure story about the Huguenots and forgiving the unforgivable. Those interested in learning what the story is about before buying it can read an excerpt at my website.
www.mollynoblebull.com
Just scroll down the main page and click Molly's Books. From Molly's Books, you can see all my covers, click to read book reviews and click to read excerpts from
Sanctuary
and
The Winter Pearl
. By the way, I write under the name of Molly Noble Bull.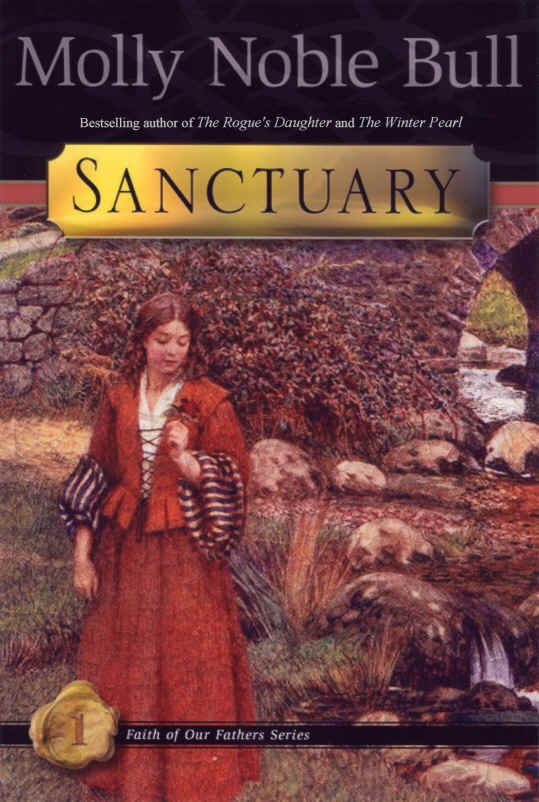 Caroline:
You recently had another book published.
Would you take this time to describe it to us?
Molly:
You must be talking about
The Winter Pearl
.
The Winter Pearl
, also a historical, was set in
Colorado
in 1888 and published by Steeple Hill in trade paperback in 2004. It came out again in mass-market paperback from Love Inspired in 2007. But I am also contracted to write three more novels and two non-fiction books for Tsaba House.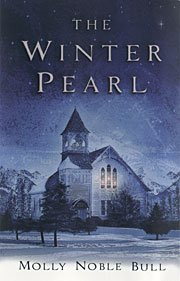 Caroline:
How and where can readers buy your books?
Molly:
The easiest way to find my books is to visit my website because there are buttons at the site you can click on that will take you to several online bookstores. But for those searching for my books on their own at online stores like
www.christianbook.com
, Amazon, Barnes and Noble or anywhere, write Molly Noble Bull in the search slot. That should take you to a list of all my books. My novels are also available at walk-in bookstores, but they must be ordered. It is unlikely my books will be found on the shelves, but it is always possible, of course.
Caroline:
Where do you get ideas?
Character names?


Molly:
Ideas for novels can come from a flash of thought, a memory, a hurt, a blessing, a frightening experience, my family history or from events I merely read about in magazines or newspapers. First and last names often come from people I have known. But if I am writing a historical, I research names that fit the time and settings of the book.
Caroline:
Do you find your characters similar to you in any way?
Molly:
All my characters contain a little of my DNA. At the same time, they are different from me. They visit times long past where I can never go, and they have exciting adventures I can never have. My hope is that those who read my books will share these adventures with me.
Caroline:
Do you ever feel like giving up?


Molly:
Daily. But it only lasts for a few minutes. Then I'm back writing again.
Caroline:
Most people don't understand the stress, the work, and the joy of being a writer.
How tenuous becoming a writer is. Do you care to share how it feels, what discouraging/encouraging times you've gone through?


Molly:
For me, writing fiction of any kind is loads of fun. I enjoy every second of it. But writing to sell is hard work that involved deadlines and rewrites and editorial guidelines. After you sell, then you have to learn how to promote your book or books. Book promotions can be fun, too. However, it takes you away from your computer and those deadlines I just mentioned. How do you spell
writing
to
sell
? STRESS.
Caroline:
Who's inspired you the most?
Molly:
I would have to say God. The Lord is the only one who knew I would become a writer someday. In fact, He is the one who gave me the talent and drive to keep going.
Caroline:
Would you roughly explain how you "chose" (or was chosen) a publisher?
Do you just go "inny, minny, miny, moe?"
Grin.


Molly:
Unless you are Lori Wick, book publishers choose you. You do not choose them. You send in a book proposal. Maybe you send in several to different publishers, and they buy your book or they don't.
Caroline:
Now, that you're published, can you sit back and relax from the success you've experienced?


Molly:
Sit back? Are you kidding? Just because I've had
five books published and five more under contract doesn't mean I will ever sell number eleven. I have to hunch over that computer every day I can and work, work, work.
Caroline:
Do you mind telling us some of your likes and dislikes?
Hobbies, interests?
Where would you like to travel if you could?
Etc.
Molly:
I love to spend time with the Lord and with my family. I love to visit new places or look closely at my current surroundings. Today, my hobby is just being alive. I love life and cherish every day that I am allowed to live here on God's good earth.
Caroline:
Would you give us your blog or webpage so everyone can check it out?
Molly:
The only blog I have is at Shoutlife, and a person must join Shoutlife to read my blog there.
www.shoutlife.com/mollynoblebull
. I've already given my web address, but I'll give it again.
www.mollynoblebull.com
Caroline:

Anything else you'd like to share?

Promotional information?



Molly: Sanctuary

is the first of three long historical novels in the

Faith of Our Fathers

series and has been reviewed by Christian Book Previews, Christian Review of Books, In the Library, and several other places. At the moment, I am working on book two of the Faith of Our Fathers series and finishing up a non-fiction book I am writing with four other published authors on dyslexia and learning disabilities. My next novel to be published will not be a historical and is very different from

Sanctuary

. It will be titled

Runaway Romance

and is actually two short novels under one cover. My romance, Alyson,

takes place on a Texas cattle ranch in modern times, and I hope some will find it lighthearted and even funny. The other short novel will be written by Teresa Slack.

I enjoyed doing this interview, Carole, and I hope you will invite me to come back soon.


Wow! Molly is an amazing writer. Don't forget to get in touch with me (you know how!) if you want a chance to get one of her books!

Coming up next Friday? An interview with Sharlene Mcclaren. Another great writer, and a sweet person to boot. Another opportunity to get one of her books!





Christmas Cookies Anyone?



Chewy Molasses Ginger Cookies
Nonstick cooking spray
1/3 cup margarine, softened
2/3 cup packed brown sugar
1 teaspoon baking soda
1 teaspoon ground ginger
1/2 teaspoon ground cinnamon
1 egg
1/4 cup dark molasses
1-1/2 cups all-purpose flour
1/2 cup whole wheat flour
1/4 cup granulated sugar
1 teaspoon ground cinnamon
Directions

Spray cookie sheet with nonstick spray; set aside.


In a large mixing bowl beat the margarine with an electric mixer on medium to high speed for 30 seconds. Add the brown sugar, baking soda, ginger, and 1/2 teaspoon cinnamon; beat until combined. Beat in egg and molasses. Beat in as much of the all-purpose and whole wheat flour as you can with the mixer. Stir in any remaining flour with a wooden spoon. Cover and chill in the refrigerator for 1 hour.

Shape dough into 1-inch balls. Combine the granulated sugar and 1teaspoon cinnamon. Roll balls in sugar-cinnamon mixture. Place 2 inches apart on prepared cookie sheet. Bake in a 350 degree F oven for 10 to 11 minutes or until set and tops are cracked. Remove from cookie sheet. Cool on a wire rack. Makes about 4 dozen.
Quote:

Christmas is the gentlest, loveliest festival of the revolving year - and yet, for all that, when it speaks, its voice has strong authority.
--W. J. Cameron