A POEM ABOUT OUR GIRLFRIENDS
Someone will always be prettier.
Some will always be smarter.
Some of their houses will be bigger.

Some will drive a better car.
Their children will do better in school.
And their husband will fix more things around the house.
So let it go, and love you and your circumstances.

Think about it!
The prettiest woman in the woman can have hell in her heart.
And the most highly favored woman at your job site may be unable to have children.
And the richest woman you know, she's got the car, the house, the clothes, but she might be lonely.

The Word says:
"If I have not Love, I am nothing."

So, again, LOVE YOU
Love who you are. Look in the mirror in the morning and smile and say:
"I am too blessed to be stressed and too anointed, to be disappointed!"
Be 'blessed'

Hints:

I can't verify this, but I've just read that there's nothing in WD 40 that will hurt you. With that thought, here's some uses for it:

1) Protects silver from tarnishing.
2) Removes road tar and grime from cars.
3) Cleans and lubricates guitar strings.
4) Gives floors that 'just-waxed' sheen without making it slippery.
5) Keeps flies off cows.
More Molly Noble Bull info: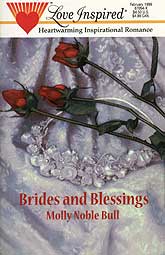 Actress Suzann Condry took on a tough role when she traded lives with her twin sister, Holly. Suzann needed to get away from Hollywood...and Holly believed Suzann might find both peace and faith in charming Oak Valley.
Anything can happen when twin sisters trade lives!
Could Suzann convince everyone she was the sweet church librarian? Especially Josh Gallagher, the handsome assistant pastor who looked like a rugged rancher. Suzann feared he suspected her...until he asked for a date. She soon dreamed of an "ordinary" life as Josh's wife. But would Josh still love her once he learned her true identity?
A word about "Brides and Blessings" from Molly:

Twins have always fascinated me. My paternal grandmother was a twin, and the thought of writing about twins intrigued me. The possibility that my novel might point others to the Lord, blessed my heart. Some describe true Christians as judgmental and mean-spirited. But I've found them to be just the opposite. I hope my readers will think the characters in "Brides And Blessings" are kind, happy Christians--that they enjoy life to the fullest--and have a sense of humor. Love and Blessings to all!
Quote:
Instead of being a time of unusual behavior, Christmas is perhaps the only time in the year when people can obey their natural impulses and express their true sentiments without feeling self-conscious and, perhaps, foolish. Christmas, in short, is about the only chance a man has to be himself.
--Francis C. Farley